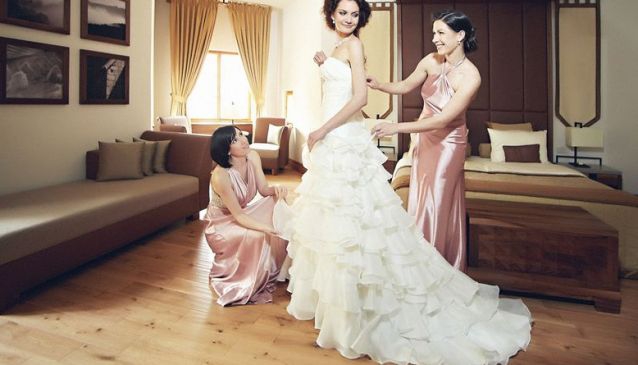 Fairytale Weddings in Slovenia
Inspiration
The most popular and unique weddings in some of the most beautiful locations in Slovenia
There are so many absolutely astonishing destinations around the world which could host your wedding ceremony. One of them is definitely Slovenia – the land of spectacular natural attractions, numerous well preserved medieval castles,Slovenian cuisine and top quality local music. If you still haven't decided where you would like to say "I do" to your beloved one, here are some examples of weddings in Slovenia; you'll soon discover it belongs in the world's top 10 wedding list.
Perhaps it is not well known as a wedding destination yet, but for sure weddings in Slovenia impress everyone who ever participates in a marriage ceremony in this country. You would also find it easy to plan your wedding in Slovenia, since almost all locals in the country speak foreign languages including English, German, Italian and Serbo-Croatian.
Nowadays you can get married almost anywhere – you just need good inspiration and pre-organization. To give you some ideas to make your dreams come true, this article will describe the most popular and unique weddings in some of the most beautiful locations in Slovenia.
Explore more of Slovenia – connect with us on Facebook!
Get Married in a Medieval Castle or Royal Manor
The castle together with the Terme Catež group has a long tradition in wedding organization. Your regal celebration can be organized either in the gorgeous Wedding Knights hall, on Castle's park and courtyard - in the shadow of two hundred years old plane trees next to the chapel of St. Anne and medieval walls - , or on the soft grass of the Mokrice Golf course.
Otocec castle is considered a pearl of the Dolenjska region, as it reflects the rich tradition of our medieval ancestors, accompanied with modern principles and standards. Say "I do" in the majestic Castle Wedding at the Knight's Salon, or be back-dropped by a marvellous building and invite your wedding guests to the Outdoor Wedding. You may also want more uniqueness at your celebration – you can choose to have the Knight's Wedding, Wedding with Maid of Honour and Celebrant, Romantic Wedding lit by torches and candles, and many more.
Bled Castle
The most well-known Slovenian attraction, Lake Bled, is also famous for its exceptional and astonishing weddings at Bled Castle. Enjoy your day surrounded by medieval walls located, very dramatically, on a rocky outcrop overlooking one of the most beautiful glacial lakes on Earth. The unique location of millennial patriarchs invites young couples to exchange wedding rings and pledge eternal allegiance inside the medieval walls. The civil part of the wedding is mostly held at the medieval hall while the church part of the ceremony (be it Catholic or Protestant) often follows in the church on the mystic Bled island.
Ljubljana Castle
Should you prefer a prestigious wedding near the capital and with a view on the city, Ljubljana castle is the right choice for you. The venue within the medieval fortress, with its majestic atmosphere, is unforgettable. The church part of the takes place in the Gothic Chapel of Saint George, while the celebrations are held in beautiful Castle halls, the Estate Hall or the Palatium hall.
Zemono Manor
Even though Zemono Manor boasts a long history, nowadays it is mostly known for housing one of the finest restaurants in Slovenia, Pri Lojzetu. Each wedding is held on beautiful gardens just in front of the manor. Royal tradition, gorgeous nature and delicious cuisine will make your most important day absolutely unforgettable.
Kenda Manor
Say "I do" at Kenda manor, where you'll feel the venue's traditional spirit every step of your way. The civil part of the wedding is usually held at Hana's or Jacob's chamber, or on a beautiful garden under the centuries old apple trees. For the church part, the wedding guests move to the old Baroque Church of Mary. The wedding celebration is held in manor's chambers – Hana or Jacob while during warm summer months the celebration is held in the summer garden, full of flowering lime trees and roses.
Get Married Under the Blue Sky
Zbilje lake (slo. Zbiljsko jezero)
This wedding ceremony is just magical, with the beautiful lake full of white swans, pristine nature and people you love. The wedding under the stars, together with good organization, is a fairytale. Both the civil and the church part of the wedding are held outside, with lots of flowers and other beautiful white decorations. The evening celebration is usually held under a white tent decorated in the royal style, with large terraces.
Štanjel town
The medieval city of Štanjel is another exceptional place which we recommend you to consider as your wedding venue. Historical heritage, picturesque surroundings and superb cuisine are a perfect combination for your marriage celebration. The wedding is held in Fabiani's park on the famous Ferrari garden with a gorgeous bridge over the pond and magnificent wedding decorations. The church part of the wedding can be organized in Saint Daniel's Church.
Piran
Getting married on a beach surrounded by old pine trees, blue sea and soft grass is something many people dream about. The medieval town of Piran has several astonishing venues where you and your betrothed can exchange wedding rings: A beautiful beach,Tartini square, the medieval fortress on the cliff, and many more. The wedding celebration can be outside, or in one of the many top-class Slovenian hotels or restaurants. We recommend Hotel Tartini ,which is located directly on Tartini square and a stone's throw away from the sea.
Mozirski gaj
It is almost impossible to find a better place for a fairytale wedding than Mozirski gaj. Strewn with millions of beautiful flowers, ponds, romantic glades and a mighty forest, it's a dream venue for anyone getting married. The ceremony is organized under a nice white tent, decorated with magnificent flowers. The church part is held in Saint Valentine's chapel, while the civil part is often held in a beautiful pavilion.
Brdo pri Kranju is mostly known as business venue but due to its beautiful parks, fine cuisine on offer and outstanding service it is popular also as a wedding destination. Besides great indoor venues, Brdo boasts two exceptional outdoor spots where you can say the big "I do", and later host the celebration on the idyllic island on the first lake, surrounded with blooming water lilies and the bigger Duck island.
Lipica is a pearl amongst tourists visiting Slovenia and ranks high as a wedding destination. Long-lasting tradition, exceptional cuisine, magnificent surroundings and famous horses, which add a special charm to the atmosphere, are just a few among many features which Lipica is proud of. Weddings are held outside on a beautiful lawn and in a small church, while the celebration can be organized in a wedding tent or indoors. Driving in a horse-drawn carriage and taking photos with guests close to Lipizzaners while enjoying your day is unforgettable.
A luxurious private wedding can be held at the famous Pule Estate. Blessed with magnificent nature, tranquillity, the finest cuisine on offer and state-of-the-art yet traditional interiors, a wedding at Pule is like a fairytale. You can choose between two settings: a beautiful lawn or one of the specially decorated indoor suites. Besides its luxurious nature, the individual approach and professional organization are Pule's major wedding assets.