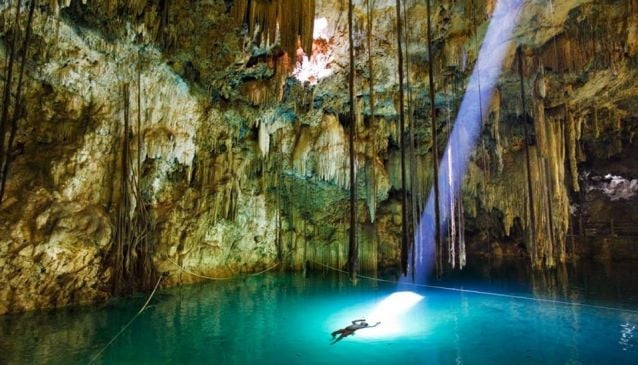 Škocjan Caves - UNESCO Heritage
Family Fun
The cave you fear to enter holds the treasure you seek. ― Joseph Campbell
Although we could debate the deep meaning of the quote stated above, we'll use its shallow version to express our excitement about UNESCO protected heritage – The Škocjan Caves.
Treasure hunt begins with a short and delightful walk through the magnificent Karst (Kras) area. The sun rays are cuddling your body, birds are singing the story you don't understand – you're about to enter the world you don't know.
There is absolutely nothing for you to be afraid although there is a constant voice reminding you that there is something more powerful than the mankind. In Škocjan Caves it formed awe-inspiring gorge at the end of which River Reka disappears in the unknown underground, the mysterious cave entrances, great underground stalagmites, stalactites and overwhelming columns.
When the first steps in the cave are made you start to feel the treasure. Mighty Silent Cave (Tiha jama) whispers the song about the couple of million years of history written on the walls. Evidence show that the first steps in Škocjan Caves were made astonishing 5000 years ago when Mesolithic man found a shelter from bad weather and natural predators. Years had passed since the first written source about the caves was made in the 2nd century B.C. and even more years had passed since Janez Vajkard Valvasor, a well-known historian from Slovenia, described the sink of the River Reka and its underground flow in 1689.
When a whispering song becomes a colorful melody you know something majestic is about to happen. And it does. You find a treasure. At this point you realize about the greatness of the nature. It's truly an amazing feeling. 140 meters high and 10 to 60 meters wide cave takes your breath and engraves in your memory for ever.
Now, when the treasure is found you continue your way towards the Big Collaps Valley (Velika dolina). Sun rays touch your body again. Treasure hunt is coming to an end but you feel overjoyed that you have found one. Slovenia certainly found its treasure. And it has a name – The Škocjan Caves.