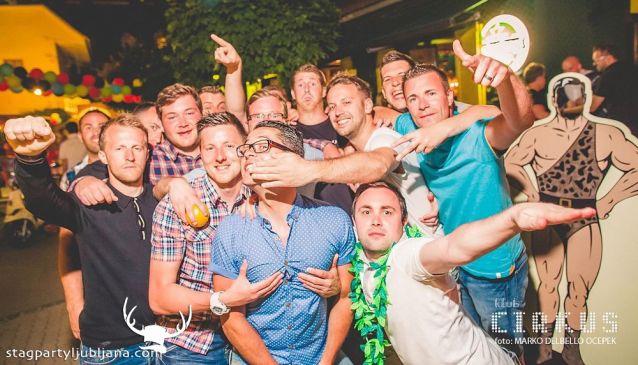 Epic bachelor(ette) celebration
Mini Break
Life is too short to party in average clubs...
Ljubljana became quite popular for celebrating the last night of freedom for guys and girls all over the world. The reasons are cheap flight connections, cheap alcohol in the bars and clubs and fun nightlife. We prepared some tips for best men or women trying to organize epic bachelor or bachelorette celebration.
Make a plan for a nightlife in advance
Life is too short to party in average clubs so it's worth checking which club would you like to visit the most. Be careful what is going on in the clubs that night because events differ every night. But generally good advice for partying would be:
Parlament Pub
DISCO bar Pr' Skelet
People usually starts partying at around 1am. Before hitting the club you should visit some warm-up places. A lot of people enjoy pregaming at:
You can also buy personalized party plan, including map with all the instructions for celebrating the stag/hen, coupons for welcome shots and entrances for the clubs at stagpartyljubljana.com or henpartyljubljana.com. That way you won't spend as much on the entrance fees and you will for sure hit the best places that night.
Choose striptease club wisely
For stag / bachelor: There are couple of striptease clubs in Ljubljana but some are a bit shady. Our advice is to not just go to one random striptease club. Usually striptease clubs offer free ride from the city center because they are all a bit away from it. There is a big chance that taxi drivers will offer you a ride to the strip bar because some of them get commission for it. From our experience, tourists enjoy HardCore club the most but even Latino striptease club is interesting because they have all-you-can-drink offer. On the other hand their entrance fee is more expensive.
For hen / bachelorette: We don't have a striptease bar with male dancers so you will need to hire a private stripper. You need to do that in advance and prices are around 200eur for a 30min show. He can make a surprise in a restaurant after dinner, in a bar where you will start warming up or at the club at your private VIP table.
Reserve a VIP private table in the club
The best clubs usually have VIP area that has private tables. If you make reservation in advance you can get a VIP pass, VIP private table, 1 liter alcohol bottle and soft drinks and you pay only for the drinks, usually around 130eur. On most nights VIP tables are sold out during the night so it's worth reserving it before the party starts.
Limo ride is overrated
It's a nice idea of having limo ride with a champagne but because Ljubljana is such a small city, it's not worth it. You can get to any party location in 5-10 min with taxi but you can't take a limo for less than an hour. Taking price into account, it's not worth it. Rather spend your money on an extra bottle at the club.
Hopefully this is the last time your friend is getting married so we wish you an unforgettable celebration. A lot of groups from abroad prefer to get the help from the agency that can organize everything for you. The most popular stag agency in Ljubljana is stagpartyljubljana.com and for hen is henpartyljubljana.com.