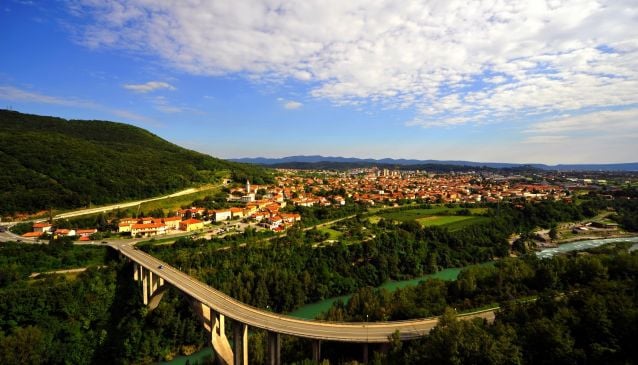 Nova Gorica, The City of Roses
Adventure
Nova Gorica is known as The City of Roses due to more than 12.000 roses planted around the city.
Nova Gorica lies on the western side of Slovenia touching the Italian border and thus reaching a hand to its twin city, Gorizia (IT). Nova Gorica is also known as The City of Roses due to more than 12.000 of them planted around the city. Besides this plethora of roses, Nova Gorica also offers numerous possibilities to have fun all year long. Concerts, festivals, theatre shows, fairs, exhibitions and other cultural, sporting, culinary or ethnological events are held. The perfect sub-Mediterranean climate generates an ideal environment for locals and tourists who love to enjoy a peaceful, but still very cheerful and lively, city atmosphere.
What To Do?
Besides numerous outdoor and indoor events which take place all year round, Nova Gorica is known for its famous casino games. Perla - The largest Casino in Europe - offers 87 gaming tables and 1.138 slot machines 24/7, 365 days a year.
If you're planning to stay in Nova Gorica for more than a day we highly recommend a drive along Soca River up north. Besides taking in beautiful surroundings and tasting amazing local food you can increase your heartbeat while rafting on the Soca River or 'flying' through the air on the biggest Zip-Line in Central Europe with Aktivni Planet.
Where To Stay?
Being the biggest city on the western part of Slovenia, Nova Gorica offers plenty of affordable accommodation. Due to its great location, with the sea to the south as well as the Alps to the north, it offers a comprehensive selection, from hotels to apartments, rooms and tourism farms. If you're looking for a comfortable, modern yet affordable place to stay Perla, Casino & Hotel and Park, Casino & Hotel would be the right choice. Being situated in the city centre they both offer relaxing accommodation as well as a great culinary experience in their restaurants. Furthermore, if you're looking for accommodation in less populated environment we would suggest Hotel Sabotin, situated in the thousand year old town of Solkan, just beside Soca River or Hotel Lipa, situated in the cosy and picturesque town Šempeter pri Gorici.
What To Eat?
It has been said that you can enjoy fabulous food all over Slovenia and this is true, although we suggest following our lead to ensure an unforgettable culinary experience. There are many outstanding restaurants across the Nova Gorica region which you need to stop by. Here are a few different restaurants to meet various expectations and budgets: Calypso Restaurant (Fine Dinning), Mediterraneo Restaurant (Casual Dining), Oceanis (Quick Eats) and Kotlar Restaurant (Local Experience) which is situated in Kobarid, 50km north from Nova Gorica.
How to get there?
There are many ways to get to Nova Gorica and each of them offers a different experience. We'll take Ljubljana as a starting point to be able to compare all routes.
The quickest and the cheapest way to get from Ljubljana to Nova Gorica is to take the A1 highway towards Koper. After 60km you'll get to the Razdrto junction where you need to take the H4 motorway towards Nova Gorica (hold right). After 50km follow the signs for Nova Gorica and 'voila' you made it.
If you're more a sightseeing person and you have more time available we recommend you go through the Vršic Mountain Pass and Soca Valley. You'll need 3h 30min (not counting all the stops) but you'll experience the breath-taking view from Vršic and drive along one of the nicest rivers in Slovenia and Europe – the Soca River. To get to Vršic you need to take the A2 highway towards Jesenice - go off the highway on the Jesenice zahod (Jesenice West junction) and turn left on the first crossroad (towards Kranjska Gora). Drive around 20km and watch for the sign 'Vršic'. From here on in just relax and enjoy the beauty of the Slovenian Alps.
The third route we recommend goes through Sežana and Štanjel. It will take around 1h 50min to get to Nova Gorica. Taking this route you will be able to stop at Lipica Stud Farm, world famous for its heavenly coloured horses - Lipizzaners. After stopping at one of the most important attractions in Slovenia you need to continue towards Štanjel, the most picturesque and oldest Karst town. From here you need only 30km to arrive at your final destination - Nova Gorica.
Explore more of Slovenia – connect with us on Facebook!
Image credits: Main, Wikimedia Commons; The biggest Zip-Line in Central Europe, Aktivni Planet; Perla Casino & Hotel, Hit d.d.; Kotlar Restaurant, Restavracija Kotlar.