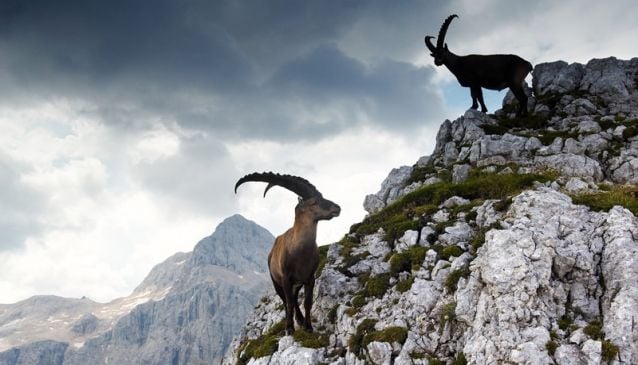 Distinctive Animals in Slovenia
Inspiration
Due to its diverse landscape and low population density, Slovenia is home to numerous animal species
Animals presented in this article are all Slovenian indigenous breeds and therefore, made a remarkable contribution to Slovenia's natural and cultural development.
Even though the country is a paradise habitat for more than 24000 animal species, here I will describe only those which stand out the most.
Lipizzaners
Lipizzaner is a Slovenian indigenous breed of elegant and noble horse which dates back to Middle Ages. This particular breed has always been famous throughout the world while it has a special cultural pride in Slovenia. Horses are good at learning elements of classical dressage as well as for drawing carriages or horseback riding. The horse also has a lively temperament and is easy to teach. In addition, this breed is healthy and has a long life expectancy. Probably one of the most interesting facts about the Lipizzaner however, is that the fouls are born black and they turn white as they grow into adulthood.
Human fish – Proteus
Human fish, also known by their Latin name 'Proteus', is an amphibian which lives in the caves of Dinaric Karst. You can find Proteus in Slovenia, Croatia, and Herzegovina. The human fish is a symbol of Slovenian natural heritage. Both Slovenian and foreign scientists together with the general public adore this mysterious inhabitant of the Karst underground. Largely thanks to this human fish and also because of other rare species, the Postojna Cave is a cradle of speleobiology as a scientific discipline.
Carniolan honey bee
The Carniolan bee is a world-famous native breed which originates in Slovenia. In addition to our country, we can also find the bee in other parts of the world such as Austria, Hungary, Romania, Croatia, Bosnia and Herzegovina, Serbia and Germany. Today however, the Slovenian indigenous breed is the most widespread bee breed in the world.
Soca trout
The Soca trout is one of the main forms of animal life in Slovenia. The fish lives in the fresh waters of the Soca River and its tributaries. Some trout can also be found in the Adriatic Sea basins. Smaller trout stay in groups, while the larger fish are hermits and prefer to stay alone. Trout are especially recognisable by their distinctive marbled pattern on their back and head, and by their long, cylindrical body. Adult trout are predators and feed on other fish, but the smaller ones live on plants, insects and plankton.
Golden Eagle
The Golden Eagle is one of the better-known predatory birds on the planet. The adult bird can have a wing span of over two meters thus presenting the largest bird that lives in Slovenia. Mountain eagles are predators, they hunt mostly other birds and small mammals. Eagles nest primarily in areas of steep mountains, which are well protected from their predators. Experts estimate that Slovenia is home to about 25 eagle pairs – and as such the breed is highly protected.
Brown Bear
Brown bears can be found in the temperate zone of the northern hemisphere. According to experts we can find approximately 450 brown bears in Slovenia. The largest group of bears are kept in Kocevje old-growth-forest. Just like bears elsewhere in the world, Slovenian bears are facing the harsh conditions of life on our planet. Notwithstanding the large habitat, the rich food they need is not always easy to find.
Karst Shepherd
The Karst Shepherd is a medium sized breed of dog, primarily known for its pastoral character and thick and luxuriant grey hair, about four inches long. Historical records show that Karst Shepherd's have been mentioned in writings from way back in time – famous Slovenian Janez Vajkard Valvasor for example mentioned this breed in one of his books. After years of successful breeding, the Shepherd was almost extinct after the Second World War. Somehow, however, professionals managed to increase the number of dogs to a now satisfactory level.
Slovenian sheep
Sheep breeding and sheep products are a traditional part of Slovenian culture. The most popular areas for breeding are the mountain valleys or plateaus where these animals have unlimited space to roam in a comfortable climate. In the last couple of years the number of sheep and shepherds has increased. Breeding an indigenous breed such as the Slovenian sheep is without any doubt the right way to preserve the culture.
Alpine Ibex
The Ibex is a mountain animal that lives in the Alps. In Slovenia we can find it in the Julian Alps, Kamnik-Savinja Alps and Karavanke. The animal was almost extinct but the group of scientists managed to curb decreasing numbers several years ago. The Ibex can live up 17 years and weighs up to 100 kg.
Krškopolje (Blackbelted) pig
Krškopolje (Blackbelted) pig is the only preserved Slovenian autochthonous breed of pig. The breed's beginnings are in the Krško Valley, on the edge of Dolenjska and Štajerska regions. By the mid-19th century, the region was dominated by long, hanged ear, almost black or striped pigs but there were also some short with upright ears. The Krškopolje pig is first mentioned and described in detail in the early 20th century. Today's breed of Kraškopoljski pig is slightly different in colour and shape, but the meat is of better quality.
Explore more of Slovenia – connect with us on Facebook!