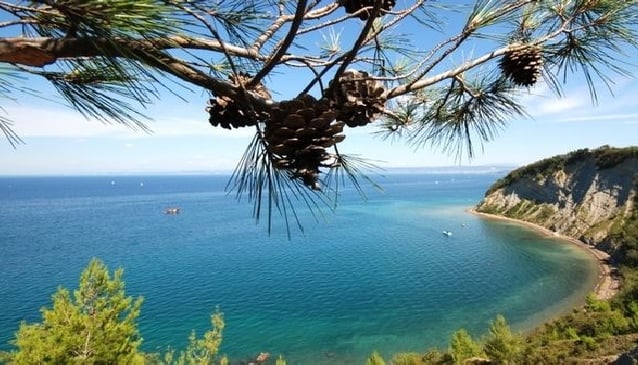 Seeking out Slovenia's Hidden Delights
Inspiration
Wander off the beaten track in Slovenia and you'll be rewarded
For such a modest-sized country, Slovenia, which is nestled between Italy, Croatia, Hungary and Austria, offers a remarkable amount of 'off-the beaten-path' attractions. Here we have put together some of our favourite things to do in Slovenia, which range from a salt museum to a secretive Baroque library...
Mill on the Mura
Named the Island of Love by locals – due to the alleged 'genuine love potion' that can be purchased here – this tiny splodge of land near Ižakovci, cradled by an arm of the Mura River, is otherwise famous for its floating, wheat-grinding mill, a delightful wooden edifice which is still in operation after many years of service. You can explore the mill and sample some homemade culinary specialities, and there is also the adjacent Büjraški Museum, which is worth a nose.
Natural History Museum of Slovenia
Located in Slovenia's capital city of Ljubljana, this museum, which was founded in 1821, is the oldest cultural and scientific institution in the country, and over the years has built up a vast and impressive collection of relevant artefacts from across the world. Of particular interest at present is an exhibition that opened in December, which displays an assortment of molluscs that helps to illuminate the origins of this relatively unstudied – but completely fascinating – group of creatures.
Beekeeping Museum
If Slovenian beekeeping is a subject close to your heart, this museum, located in Radovljica, will be of monumental interest. Detailing the history of the quirky practise, the institution is divided into three parts: the first enlightens you on the development of beekeeping in Slovenia, the second explains the art of painting beehive panels, and the third educates you on the characteristics of bees. The displays are engaging and the accompanying text short and to the point. Which is good.
Hydro Plant in Škofja Loka
Until 1894, the stupendously quaint town of Škofja Loka was, like many other European towns, still in the dark ages as far as electricity was concerned. But then came Alojz Kranner, a forward-thinking chap who was fed-up of scraping candle-wax from the carpet. So he set about building the country's first hydro-electric dam on the river that runs through the town, and when it was finished, he said: "Let there be light!" Probably. The original is long gone, but there is still a plant on the site.
Jama Pekel
Translating into 'Hell's Cave' because of its stone entrance apparently resembling the image of Beelzebub himself, Jama Pekel is less-ominously famous for its incredible karst systems, sculpted over 3 million years by the Ponikvica Stream. It makes for a fantastic few hours of exploring, with an easily navigable path running for over a kilometre through the cave, and a chance to see the highest underground waterfall in Slovenia. It is located a few kilometres north of Šempeter.
Roman Necropolis
In 1952, work was being done on an orchard in Šempeter. One of the workers stumbled across a statue of a sitting woman. She had been sitting there, untroubled and quite content, for 2,000 years. This marked the beginning to what would turn out to be one of the most remarkable excavations in Slovenia's history. The Roman burial ground is now open to the public, and is one the most beautifully preserved and important Roman sites not just in Slovenia, but the whole of Europe.
Aquarium-Terrarium
As popular with locals as it is with tourists – which is always a good sign – Maribor's aquarium together with terrarium boasts brilliant displays of both native and foreign marine and reptile life within a series of vivid recreations of natural environments. There are 120 species of fish on view, as well as 50 different types of reptiles, including crocodiles and some of the world's deadliest snakes. The centre has been running for more than half a century and it improves continuously.
Ljubljana Marshlands
Offering an exceptional archaeological resource, the Ljubljana Marshlands sprawl south of the present-day city, covering approximately 160 square kilometres. The earliest inhabitants of the city resided here in the mid-Stone Age (5,000 years ago) on pile dwellings, and evidence of their primitive existence is forever being uncovered. At the time of writing, more than 10,000 artefacts have been discovered, and the land is also important on a botanical and zoological level.
Seminary Library
This Baroque treasure, nestled within Ljubljana's Seminary Palace, is the oldest public library in Slovenia and has had a librarian since 1742. Built in 1710, the cosy narrow space is lined with gorgeous oak bookcases filled with antiquated volumes, and the illusionist-style murals that adorn the vaulted ceiling are simply stunning. If you would like to visit – and you absolutely should – you must announce your plans in advance to avoid disappointment.
Botanical Garden of Ljubljana
Home to more than 4,500 species of plants, Ljubljana's Botanical Garden last year celebrated its 200th birthday. A third of the flora in this tranquil place – which has been running uninterrupted throughout its long life – is indigenous and the remaining two thirds come from other parts of Europe, with many species falling into the endangered, threatened or rare categories. The garden is open every day and is free of charge, and there is also a small shop for souvenirs.
Salt Works Museum
A favoured saying of the people of Piran, a city and municipality perched on the nail of a finger of land poking into the Adriatic Sea, is: "Piran xe fato de sal." Which means 'Piran has arisen from salt'. Not particularly prolific as far as adages go, but true nonetheless. Experts believe salt has been harnessed here for upwards of a millennium. Apart from gazing out over the expansive pans, you can visit a nice museum that details the lives of the workers responsible for all that sodium chloride.
Piran Aquarium
While you're in Piran, you should also check out its celebrated Aquarium, which holds a dazzling array of marine life – 140 species at last count. Add to that an in-house diver, tasked with the smooth running of the aquatic systems, so don't be alarmed if you spot him floating about amongst the fish, octopi, lobsters, sponges, eels, sea-urchins and sharks. The aquarium has been in existence for almost half a century and boasts numerous illuminated basins and pools.
Benedikt's Springs
Slovenia is famed for its thermal mineral waters and one of the best places to enjoy them is the little visited municipality of Benedikt in the northeast of the country. Due to the extensive number of tectonic fractures, there are hot springs all over the country, but while most of these have been 'trapped' (meaning you must pay to enjoy them), the ones in Benedikt still exist in their natural environment. So not only are they free, but you can also avoid all those pesky crowds.
Lake Cerknica
Located in southwest Slovenia, this beautiful lake – or boggy marsh, depending on when you visit – is intermittent, meaning the water comes and goes. When full, it is the largest lake in the country and a wonderful spot to spend a day hiking or simply picnicking on the shoreline. When the water disappears down the various sinkholes dotted about the region, it is a brilliant place to spot wildlife – especially waterfowl. The surrounding scenery is spectacular, and thankfully not intermittent.
Wild Lake
The source of this lake, situated near the small town of Idrija, is something of an enigma. It is fed by a steeply descending, unfathomably deep subterranean passage, which has been the ruin of many an inquisitive diver. In the end, someone had the bright idea to drop a weighted rope down instead, and it sank for over 160 metres. Natural siphons of doom aside, the ghostly turquoise water, surrounded by steep cliffs, is achingly beautiful and positively crammed with wildlife.
Mostinca River
This river and the striking gorge – the Mostinca Chute – it has diligently carved is one the most scenic places in Slovenia. The river springs from the southern slopes of the Uskovnica andFužine Mountains, works its way down the Voge Valley before becoming a bit choppy, then passes under the Cešenjski Bridge (which is supported by a natural bridge), where a fantastic walking trail begins, which takes you down into the aforementioned gorge. Have your cameras at the ready.
Strunjan Cliffs (main picture)
Slovenia only has a snippet of coastline – just two centimetres for each inhabitant (or 47 kilometres if you're not into abstract statistics) – but what it does have is, like the rest of the country, strikingly scenic. The highlight of it is the towering, ochre Strunjan Cliffs, the top of which make for a fantastic coastal trek. They can be found in the Strunjan Landscape Park, near to the town of Strunjan, an old salt-making settlement located between Piran and Izola, and worth a visit in its own right.
Pericnik Waterfall
Located near the village of Mojstrana in the Julian Alps, northwest Slovenia, these stunning cascades, sourced by a melting glacier, are a remnant of the last Ice Age. They are divided into two sections; the first falls 16 metres from the Vrtaška plateau before regrouping and then dropping a further 52 metres into an emerald pool. The falls are especially beautiful in winter, when the gushing water is replaced with dreamlike icicles and floes, which look like the pipes of a grand organ.