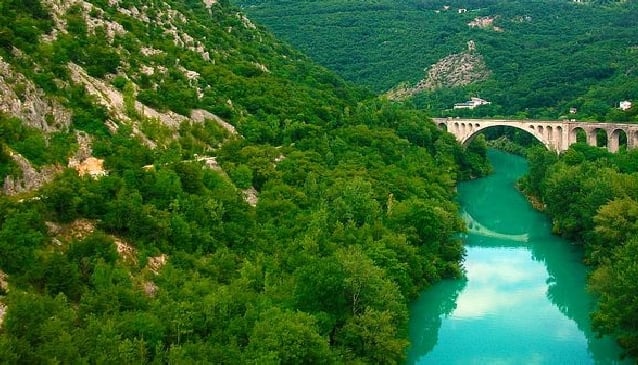 3, 2, 1... BUNGEE!
Adventure
I do hope you enjoy the most traumatic experience of my life!
This is part of a wider story on an action packed weekend in Slovenia, during which our writer, Will, and fellow travel journalist, Dave, were whizzed around all the things to do in Slovenia, courtesy of Ivo, Rok and Ivana, all three of whom run MyDestination.com/Slovenia
* * * * *
There was a moment when it looked as though the jump wasn't going to happen. A thick grey mist had slunk through the valley, bringing with it a fine – but saturating – drizzle. The cars and trucks rumbling over the bridge were throwing up spray, splashing our ankles. The Soca River idled below, a streak of turquoise fringed with forest.
"He will not do the jumps if there is rain", said Ivo, as we trooped off the bridge with a gaggle of fellow thrill-seekers. Some looked disappointed, more looked relieved.
"Oh. Why not? Does the rain make it dangerous?" I asked, zipping up my hoodie. I shivered, but didn't feel cold.
"I do not think so. Maybe he just doesn't want to get wet."
"Ah, yes. Of course."
Which was just fine as far as I was concerned – the rain was as good an excuse as any, and if the instructor didn't want me to jump, I wasn't about to argue. I had long since gone off the idea of temporarily relinquishing all sanity by falling of a very high place with some elasticated rope knotted round my ankles. It had seemed like a marginally reasonable notion the night before, with six pints of lager swilling round my innards, but now, stone cold sober and weary from white-water rafting earlier in the day, the whole thing just seemed ghastly.
We were at the only bungee centre in the country, the Solkan Bridge, just outside the town of Nova Gorica. I sought solace by quizzing the instructor.
"What's your safety record like?"
"Safety record?"
"Yeah, you know, safety. Any fatalities?"
He laughed. "No fatalities, my friend."
This was very good. I would have been happy with one in ten.
After an age, the rain stopped. I'll do the rest of the talking (shrieking) through the medium of film. I do hope you enjoy the most traumatic experience of my life.
Follow me on Twitter @WillJackJones
This adventure was organised by Top Extreme, a company based in the Soca Valley and the only one in the country that caters for bungee jumps. Aside from this, Top Extreme specialises in a variety of adventure activities, including rafting, canyoning, kayaking and climbing. The company also offers package deals, including extreme days, extreme weeks, school trips and business trips.