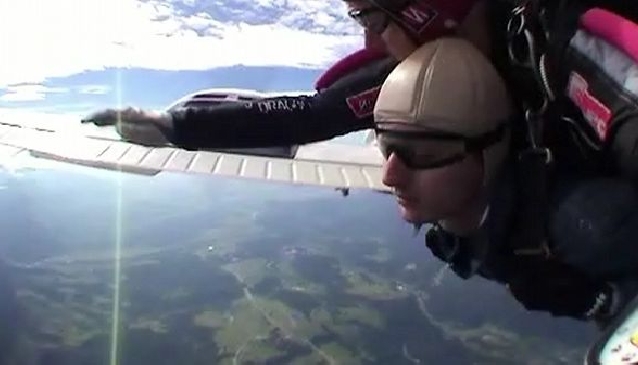 Taking to the Slovenian Skies...
Adventure
My ears pop along with my blissful bubble of denial. This is all suddenly alarmingly real.
0 feet…
It's the morning of the last day of my whirlwind weekend tour of Slovenia, and I'm in a blissful bubble of denial. I know I'm in an airfield. I know I'm wearing a jump suit. I know I'm wearing a ridiculous hat. I know some guy with cool sunglasses is telling me I'm unlikely to die. I know I should listen to him because he's the Tandem Master, and anyone whose job title has the word 'master' in it is probably someone who merits attention.
I know all this but I'm not really believing any of it just yet, because frankly, the reality of what I'm about to do is a little too much to comprehend.
3,000 feet…
But reality it is, and now the airfield is a mere splodge of green, barely an interruption to the rumpled carpet of land below. I have to shout over the roaring engine to ask how high we are and the reply astounds me. Not even halfway. I can't stop staring at the huge opening where a wall should be. I'm inches away from it and cold air is rushing in, pummelling my face.
7,000 feet…
My ears pop along with my blissful bubble of denial. This is all suddenly alarmingly real. This is actually happening. I'm sitting in a flying box and soon I won't be. I'm short of breath, though can't tell if it's due to nerves or altitude. Still the plane climbs, snorting and chugging. The Tandem Master is fiddling around with some clips and buckles.
10,000 feet…
It's time. We shimmy to the edge. I allow my legs to dangle over. The ferocious wind is snatching at my ankles. The noise is deafening. I lean back against the Tandem Master so my chin is pointing to the sky and my head is resting on his shoulder. No going back now. No going back. My heart is frantically hammering on my chest, like it's trying to escape.
And then suddenly we're gone. Irrefutably gone. The world turns upside down.
Falling from this height doesn't feel like falling at all. There is no perceptible change; the land is not rushing towards me, and I not at it. The only clue to the tremendous speed we are travelling is the sound of the wind howling at my ears and the feel of it moulding my face into bizarre (and severely unflattering) shapes. I decide this is quite possibly the best thing that's ever happened to me.
5,000 feet…
I'm yanked out my reverie by the opening parachute and suddenly everything is calm and normal again. Normal save the fact I'm suspended at roughly twice the height of the tallest building in the world. Still, my eyes are drinking in a truly spectacular panorama. Dark mountains swelling from swathes of green, everything patched with forest, and in the midst of it all a blue lake studded like a jewel.
0 feet…
I want to do it again. I'm hooked.
This adventure was organised by Avantura: Outdoor Adventure, a company based in the Bled area of Slovenia; one of the most scenic parts of the country and as such one of the best places to skydive. Their Tandem Masters are highly experienced in the sport of parachuting, having successfully completed over 20,000 jumps between them. They have a 100% safety record and between them hold a variety of gold medals from international skydiving competitions. For an additional fee, they can film your adventure and edit it into a 10 minute film, complete with a soundtrack.
Explore more of Slovenia – connect with us on Facebook!